Un petit spin médiatique est actuellement en cours contre Aleister Crowley et l'Ordo Templi Orientis (OTO). Dans la page « Google Actualités » personnalisée de l'administrateur/modérateur de la Jérusalem des Terres Froides, il n'y a pas seulement la rubrique « Vaudou » mais également la rubrique « Aleister Crowley » pour avoir un aperçu de ce qui se dit du mage anglais dans les mass-médias mondialistes. Et en deux à trois semaines, quatre articles ont paru sur la même affaire.
Le responsable du site s'intéresse à l'auteur de Magick in Theory and Practice depuis longtemps, depuis bien avant qu'il découvre Alain Soral et Égalité et Réconciliation. Il sait pertinemment que les histoires de « satanisme » de Crowley ne sont que des conneries propagées par les mass-médias et les groupes religieux intégristes, car il a dans sa bibliothèque un bon nombre d'ouvrages de l'occultiste lui-même et/ou le concernant, plus toute une série d'articles de revues, extraits de journaux, etc. Il dispose même du Perdurabo de Richard Kaczynski, la source la plus sûre sur le sujet, provenant de cet états-unien qui a fait sa thèse de doctorat sur Crowley, un travail beaucoup plus sérieux et rigoureux que celui qu'a pu faire Christian Bouchet. De fait, le Perdurabo de Kaczynski est l'ouvrage le plus exhaustif sur le natif de Lemington Spa, toute langue confondue. Et comme aurait pu dire Marion Sigaut : « il est allé aux sources, il est allé aux textes ».
La Jérusalem des Terres Froides ne voulait pas aborder dès maintenant la question du mage anglais. C'est que pour une défense solide du personnage, homme qui en a fait beaucoup à son époque pour noircir sa propre réputation, il est nécessaire d'installer quelques textes et extraits en préalable. Cela permet d'éviter d'emblée les allégations gratuites comme le « Aleister Crowley copain d'Hitler » de Johan Livernette (ce qui est faux : le fanatique indépendantiste irlandais se sentait beaucoup plus proche de Staline que du Fuhrer), le 666 Mega Therion (un jeu de mots d'humour noir basé sur le carré solaire dont la racine est 666), la "magie sexuelle" (comment croire que se masturber avec certaines idées/images en tête, ou dans certaines postures yogiques, puisse être "satanique" ?) et autres débilités du même acabit. Mais le temps presse et la JTF se voit obligée d'aborder le sujet sans aucune préparation.
Peaches Geldof, la fille de l'acteur Bob, est la responsable de l'irruption de Crowley sur le site de la JTF. Il y a quelques temps, l'héritière du show-business a exprimé sur le ouèbe son intérêt pour tout ce qui concerne Aleister Crowley. On nous montre l'avant-bras de la jeune femme, où elle s'est fait tatouer les lettres « OTO » encartouchées dans un cœur et on y va avec les gros titres sensationnalistes : célébrités dans un culte sexuel satanique.


Bien sûr, tout ceci n'est qu'un carnaval grotesque car l'Ordo Templi Orientis n'est pas une secte ou un destructive cult. D'ailleurs, les soraliens et autres spécialistes auto-proclamés du satanisme et de la magie sont vraiment des ignares irrécupérables car quiconque qui s'intéresse à cet ordre saura rapidement qu'il n'a pas été fondé par Crowley, que lorsque Karl Germer a voulu faire reconnaître Crowley comme autorité au sein du groupe, celui-ci s'est scindé en au moins trois parties et que l'ensemble du corpus de l'ordre ne s'est jamais résumé à la « sexualité magique ».
Encore aujourd'hui, il y a toute une mosaïque derrière l'acronyme OTO. Dès le départ, on peut vous parler de "l'OTO califal" de Portland, Oregon, qui se veut l'héritière orthodoxe de l'OTO issue de Crowley, et le "Typhonian OTO" issue de Kenneth Grant, l'un des derniers acolytes du mage. Bien que les deux soient également "l'OTO", ils se détestent à mort et ne veulent rien savoir l'un de l'autre, comme des sunnites et des chi'ites. En dehors de ces deux "obédiences" historiquement attestées, en plus de ces "OTO" européennes qui n'ont jamais accepté Crowley et les autres qui l'ont accepté, il y a encore toute une série de groupuscules "OTO" formés soit de gens qui ont fréquenté les grandes "obédiences" historiques et en ont été déçus ou encore des esprits entrepreneurs qui décident de "tout reprendre à neuf". Pour ce qui est de miss Geldof elle-même, un tatouage OTO est loin d'être une preuve d'appartenance à tout ce qui vient d'être expliqué ici. On pourrait même penser qu'elle n'y connaît pas grand'chose, que c'est là qu'une Xième mode de bourgeoise désoeuvrée car trop riche par les parents.
Au delà de toute cette question de la mosaïque bigarrée des "OTOs", il n'est pas impossible qu'une authentique secte destructrice utilise des symboles en provenance de celui-ci, voire même qu'elle se prétende être la « véritable OTO issue de Crowley ». Mais cela ne remet pas davantage en cause l'OTO et le mage anglais que la fondation de la bourse de Genève –au nom de Jésus- par Jean Calvin ne remet en cause le Christ des Évangiles, celui qui a botté le cul des marchands du temple.
Il y en a beaucoup à dire pour la défense de l'homme qui apparaît sur la couverture du Sergeant Pepper des Beatles, trop pour que la JTF puisse aborder de front le sujet maintenant. Mais elle sait en elle-même qu'elle devra s'atteler à la tâche tôt ou tard, surtout avec la nouvelle hypothèse de son responsable sur la diabolisation de la magie et du métapsychique par le soralisme. Pour l'heure, voici les 4 articles de la presse mainstream concernant Peaches Geldof et sa nouvelle passion spirituelle. L'administrateur/modérateur du site ne passera pas sur toutes les fadaises rapportées mais elle précisera dès maintenant que le titre « Wickedest Man of the World » ne vient pas de Crowley lui-même, c'est le journal anglais John Bull qui lui a attribué. Eh oui, alors que le fils de darbystes est contemporain des deux guerres mondiales et toutes les atrocités et ignominies venants avec, ce journal anglais a décidé que le plus méchant de tous, c'est un homme qu'on dit « satanique » car il se masturbe en croyant que cela va lui amener des pouvoirs magiques (Pour une idée de ce que Crowley entendait par "magie sexuelle", voir La sexualité de Narcisse de Sarane Alexandrian, 2003, au Jardin des Livres de Pierre Jovanovic).
La dernière chose que fera remarquer la Jérusalem des Terres Froides, c'est que tout comme Laïbi et Livernette sont sur la même longueur d'onde que les mass-médias pour affirmer le "satanisme" d'Aleister Crowley, de même les catholiques intégristes à la Ploncard sont sur la même longueur d'onde que ces mass-médias par rapport à l'OTO. Alors que vous verrez ci-dessous l'OTO être résumé à "satanic sex cult", les éditions Saint-Rémi ont publié un livre qui s'appelle Du sang du l'autel, Histoire secrète de la société occulte la plus dangereuse du monde, de Craig Heimbichner (2011, originalement paru en anglais en 2005, possibilité de voir des extraits ici).
Rajout du 8 avril 2014 :
Le responsable de la Jérusalem des Terres Froides a prit note du très triste décès de la jeune femme et offre ses condoléances à la famille et aux proches éprouvés.
The Guardian (UK) : Passnotes, A Humorous Q&A About A New Issue of the Day,
---Peaches Geldof has signed up to Aleister Crowley's sex cult OTO---
The celebrity tweeted a picture of one of the cult's books, and has inked the initials on her body too. But what do we know about OTO ?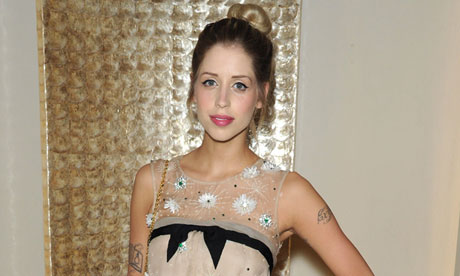 Peaches Geldof: believes in a thing called Thelema. Photograph: Michael Bowles/Rex Features
Age: Founded in Germany in 1904. So 109.
Appearance: Daft tattoos on daft people.
What does OTO stand for? Ordo Templi Orientis.
Meaning? The Order of the Oriental Templars.
And what does the Order of the Oriental Templars stand for? The "wisdom and knowledge" of, among many others, the Gnostic Catholic Church; the Rite of Memphis; the Order of the Sat Bhai; the Hermetic Brotherhood of Light; and the Illuminati.
Is this, by any chance, a stupid cult? No, actually it's a respected school of academic thought known for its rigorous system of peer-reviewed publishing and many seminal contributions to the philosophy of mind, ethics and epistemology.
So why is it in the news? Why are stupid cults ever in the news?
Ah. Because of a famous stupid cultist?
Bingo. In this case,
Peaches Geldof
.
What has she done?
Tweeted a picture from one of the cult's books to her 148,000 followers with the
message
: "#93 #Thelema #o.t.o for all my fellow Thelemites on instagram!"
And what exactly is a Thelemite? A believer in Thelema.
Which is?
The
religion
created by occultist, practitioner of "
sex
magic", "wickedest man in the world" and former head of the Order of the Oriental Templars,
Aleister Crowley
, based on the central tenet: "Do what thou wilt."
I think she may have been better off with the Scientologists. Now there's a sad state of affairs.
Do say: "Why does anyone follow this utter charlatan?"
Don't say: "Her tweets aren't even good."
---
---Is Peaches Geldof a member of occult-based OTO ?---
Peaches Geldof is a controversial British socialite who, unlike her American counterparts, is a talented writer unafraid of asserting her opinions. Previously, she spoke out about her Scientology views. Now, it seems her religious ideology has shifted in a whole new direction, as she is encouraging others to read the
teachings of
Aleister Crowley, who proudly called himself "the wickedest man in the world."
To most people, the teachings of Crowley are concerning. A 19th century British occultist, Crowley referred to himself as "
the Great Beast 666
." He encouraged the use of drugs and sadomasochistic sex rituals. At the core of his teachings, which are formally referred to as Ordo Templi Orientis (OTO), Crowley believed in rejecting laws and social pressures.
"'Now,' said the Beast. My husband struck at the wretched animal, but only half killed it," wrote Betty May Loveday for
True
in 1939 of her husband's experience sacrificing a cat for his initiation into OTO. "He had to pick it up again and finally, with a hard blow, severed its head. But my husband's task was not done. He had to
drink a cup of the cat's blood!"
In the time since his death in 1947, Crowley's teachings have
influenced
a
number of people including Led
Zeppelin guitarist Jimmy Page.
"I feel Aleister Crowley is a
misunderstood
genius of the 20th century," Page told
Sounds Magazine
in 1978. "Because his whole thing was liberation of the person, of the entity and that restrictions would foul you up, lead to frustration which
leads to violence, crime, mental breakdown, depending on what sort of
makeup you have underneath."
Geldof has also done little to mask her interest in OTO. She has even gone so far as to
tattoo "OTO" on her arm — and, in her own words, the subjects of her
tattoos are all personally meaningful.
"It felt like my life was moving quickly, and if I didn't get a tattoo to commemorate what seemed to be significant events, they would just slip away from me, or not be as 'real.' I had to immortalize them," Geldof wrote in an article about her tattoos for
Sunday Times
last month.
She also encourages other to learn more about the ideology. In response to a Twitter follow's question
about learning more about Thelema, a word for Crowley's teachings,
Geldof recently said
, "I would buy Aleister Crowley's books on it, they're not expensive and super interesting."
Still, the same Twitter feed seems to indicate that Geldof practices Judaism, which she converted to after her bout with Scientology.
So, what does that mean for Geldof's soul? 1. That isn't really for us to say, but 2. It mostly seems like she's just a curious person with a
penchant for scandal. After all, it's hard to imagine her taking part in sadomasochistic sex rituals while heavily pregnant with her second child.
---
---Aleister Crowley's sex cult latest craze among celebs---

Rich and famous celebrities are now turning to a sexy new cult, which is centred around red-hot kinky rituals.
Wild child Peaches Geldof is the latest star to follow the OTO religion and has its initials tattooed on her arm, the Daily Star reported.
The 24-year-old shared her sizzling obsession on Twitter, sparking talk of a number of stars linked to the organisation.
She urged her thousands of fans to buy books by Satanist Aleister Crowley, leader of the controversial Ordo Templi Orientis sect.
Famed for his love of sadomasochistic rituals, the English author promoted sex with multiple male and female partners, as well as the use of cocaine and heroin.
Chart-topping rapper Jay-Z is allegedly linked to the religion, as is rapper Kanye West and music star Adam Lambert.
Jay-Z was spotted in a T-shirt with the motto Do What Thou Wilt, an OTO saying encouraging people to do whatever they choose, especially when it comes to sex.
Commentators have questioned whether Jay-Z's hit clothing range Rocawear features OTO links.
Part of the collection includes the "all- seeing eye" triangle and the Egyptian Eye of Horus symbol, which are both frequently referenced in Crowley's books.
Former sex addict Russell Brand, 37, has been quoted as saying he
admired one of Crowley's free-loving -teachings, while West and Lambert have sported outfits with OTO symbols.
Perhaps most surprising of the sect's possible celebrity fans is Tom Cruise and Nicole Kidman's daughter Isabella, who hinted that she could be interested in OTO.
She shared a photo of her own Aleister Crowley-inspired tattoo of the Eye of Horus.
Led Zeppelin guitarist Jimmy Page routinely took part in OTO rituals and was reportedly so fascinated by Crowley that he bought the Satanist's former home, Boleskine House, on the edge of Loch Ness in Scotland.
Even The Beatles included Crowley on the cover of their 1967 album 'Sgt Pepper's Lonely Hearts Club Band'. (ANI)
---
---Satanic sex cult makes its mark on Geldof---
Bob Geldof's girlfriend says she does not know if Peaches Geldof will give up her fascination with the satanic sex cult OTO.

Par Richard Eden
Paru le 28 avril 2013 sur
The Telegraph
Peaches Geldof has delighted her father, Bob, with the birth of her second child, a boy named Phaedra, but her fascination with the satanic sex cult Ordo Templi Orientis seems to have bewildered him.
Peaches, 24, who gave birth on what would have been the 54th birthday of her late mother, the television presenter Paula Yates, had the cult's initials, OTO, tattooed on her arm.

She urged her followers on social-networking websites to read books by one of the cult's leading members, Aleister Crowley, an occultist sex and drugs addict once called "the wickedest man in the world".
Geldof's long-term companion, Jeanne Marine, tells
Mandrake
: "You don't know if it's something that will pass or if it's longer than that. The thing is, young people, they change their minds a lot."

Speaking at the Veuve Clicquot Business Woman of the Year Awards, at Claridge's, the French actress adds: "I don't know anything about the cult. Bob doesn't, either, and he finds it hard to keep up sometimes. He knows young people go through phases that pass, and maybe soon she'll lose interest in the cult. But she has go it tattooed on her skin, so I don't know."